The Facts
2022 is here and with it comes hope, change, and health. People all over are embracing this new year with a new perspective, strength, and a renewed sense of resilience. Over the last two years, we have spent more time at home as a nation, attempting to avoid the health risks surrounding the Covid-19 pandemic. Through this, we have realized the personal and professional value of having our homes serve not only as comfortable gathering spaces for friends and family, but also functional spaces to work, and even motivational spaces to exercise and get healthy. Converting our homes into what we need to be successful, healthy, and happy is more than just a trend, it is a necessity, and Jax Construction is here to help you make your vision come to life! 
Businesses are enabling their employees to work from home, schools are operating remotely when needed, and family and date nights are being spent in the comfort of our living rooms and kitchens more often than a night out on the town. Although restrictions and concerns have loosened a bit over this amount of time, the idea of spending more time at home has not. Because of this, many people are asking themselves, should I move or remodel?  
According to realtor.com, Columbus, OH is forecasted as #5 on the "hottest U.S. housing markets in 2022." This indicates that Columbus is one of the locations projected to have rising prices and rising numbers of home sales. The inventory is low, and prices are high, so if you are playing with the idea of relocating, now is the time to start your hunt!  
However, many central Ohioans are considering remodeling and renovating their existing space to meet their needs. With the value of homes increasing and the hot real estate market, updating homes with new-found equity is a good investment and smart decision. 
Because of this, the remodel and construction business has been booming with renovation work to make homes multi-purpose areas for work, entertainment, and just comfort. Now is the perfect time to take on those projects you have been dreaming about and at Jax Construction, we want to help you make your home exactly what you want and need it to be.  
What You Should Know When Starting a Remodel Project
As we are ready and willing to take on new projects, the pandemic continues to disrupt the manufacturing and distribution of building materials and the labor market around the country, and right here in Columbus, Ohio. Due to supply chain issues all over the world, the industry is experiencing price increases on products, as well as out-of-stock notices and delayed arrival of materials. This is causing our construction projects to take longer than they did 3 years ago to get from start to finish, but it will be done well and worth the wait!  
In an effort to maintain our promise of being honest and transparent with our clients from start to finish, here is what you need to know when starting a renovation project in 2022: 
Building Materials With The Most Visible Price Increase:
(bobvila.com)
Softwood & Hardwood Lumber

 

Plywood

 

Iron & Steel

 

Millwork

 

Plumbing Fixtures & Fittings

 

Hardware

 

Wood Windows

 

Paint & Painting Materials

 
As supply shortages occur, projects may be delayed or even interrupted. Our commitment to you is regular communication and problem solving to ensure we are all on the same page. Workarounds can be used when appropriate, for instance, using a different brand of appliance or fixture that has in-stock availability, or starting another aspect of a project while one remains unfinished due to materials needed. But sometimes we are at a standstill while awaiting a necessary item or material.  
Additionally, our industry is being confronted with labor shortages due to the pandemic. When a worker gets sick, mandatory quarantine times and overall health can delay a project. With several projects going on at one time, it can be difficult to get someone to fill in when this unforeseen circumstance arises.  
Another delay not often considered is the companies we rely on to assist us in completing our clients' projects. In some instances, there are backlogs in utility companies (gas, electricity, water) that can also delay a construction project from reaching completion within a given timeframe. 
These challenges do not appear to be going away anytime soon and as such, it is important that we approach ideas, projects, and turnaround times with an open mind and understanding. By looking at things from a new perspective, we may be able to implement innovative ideas and fixes for your space, or we may have to revisit a project once we have everything we need to make it perfect for you.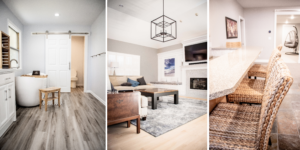 The Good News
We understand that the patience of our clients can run thin when dealing with these disruptions to their renovation or building projects. Even before the pandemic, it was never convenient to have workers in your house, unexpected hang-ups, or loud machinery—but the outcome was worth the wait! Now, with deadlines being pushed further and further out, the first thing to go seems to be patience, and here at Jax, we get it. At Jax Construction, we are dedicated to remodeling homes through education, communication, and problem-solving. The good news is we have a concrete policy, to be honest, clear, and concise with our clients every step of the way. You will not be left guessing what is going on, who is showing up, and when materials are coming in. We promise to work with you to make sure you know everything that is happening with your project and help present alternative design solutions if needed. We are realistic, truthful, and respectful when outlining any hiccups or hurdles we may come across during these unprecedented times.  
We welcome questions and concerns with an open-door policy and want you to feel comfortable with every aspect of the project. From design to product delivery, to installation, to timeframes—ask us anything. Our goal is, and always will be, to provide you with an amazing remodeling or building experience, making your vision come to life.  
We know we cannot change the state of our industry (or of the world), but we believe we can work together to overcome the challenges and maintain open communication about everything that comes our way. We take pride in the work we do and are determined to give our clients exactly what they expect and more.  
Contact us today to get your next project started with peace of mind that we will be with you every single step of the way.