November is here, a month that signifies giving thanks and being thankful. The start of the holiday season reminds us of the power of giving, helping, and kindness to our fellow humans. This year Jax Construction celebrates 5 years of business and in turn, has us reflecting on all the ways we received gifts from clients, friends, and our community to help our business develop and grow. We want to extend that love and kindness to our community and beyond, by helping families in need.  
With that in mind, we are holding a charity holiday drive collecting items you may have around your house, or that you can purchase and donate to help transform the holidays for families in need. All donations will be received and transported by Jax Construction, making it easy to give during this busy time. The donation items will be transported to Linworth United Methodist Church and will support families at West Broad and John Burroughs Elementary as well as the Smokey Row Food Pantry.  
You're Invited!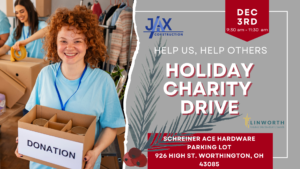 What to Bring?
Winter Coats

 

Winter Hats

 

Winter Gloves

 

Scarves

 

Socks

 

Canned Goods

 

Dry Goods (Pasta, Beans)

 

Gravy Mix

 

Dry Box Dessert

 

Unopened Toys

 

Gift Cards (Grocery Stores, Amazon, Target, Walmart)

 

Cash Donations Accepted

 
Other Ways Help
Interested in doing more? Linworth United Methodist Church also has a program where you can sponsor a family this holiday, providing gifts and food for Christmas. They are looking for sponsors and for people interested in organizing and delivering these goods to the families. To get involved, you can contact them here. 
Please join us on December 3rd anytime between 9:30 am to 11:30 am at the Schreiner ACE Hardware parking lot to help us help others in need. Your time and contributions can make someone else's holiday season truly special.