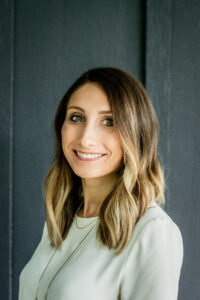 Over the last 5 years, we have added people and processes to our business to ensure the best outcome for our client's home remodeling and renovations. One of the best assets to join our team is our very own Designer and Project Coordinator, Chelsea Luken. Chelsea joined our team with a degree in Interior Design from The Ohio State University and has a vast portfolio of work in both residential and commercial projects. Her creative and keen eye, along with her knowledge and organizational skills, adds so much to every project that we do.  
It is easy for us to look at a friend's home, a Pinterest board, or a magazine and love a style and aesthetic in a space, but cultivating that look in our own homes can be a challenge. Enter, Chelsea. Armed with 11+ years of experience in the industry, Chelsea works directly with our clients to not only bring their individual style into the home but also to find products to enhance that style AND produce functionality. 
In addition to working directly with clients, Chelsea has worked on the product side in the past and as a result, has gained technical knowledge that is an asset to clients updating and re-imagining their homes. Not only does she excel in decorating, but Chelsea will also prep all the drawings of the space to reflect the placement of products, electrical, plumbing, etc. This assists in achieving the functionality that all clients strive for.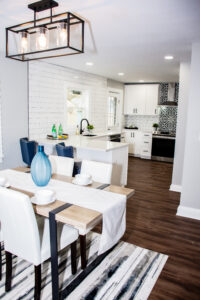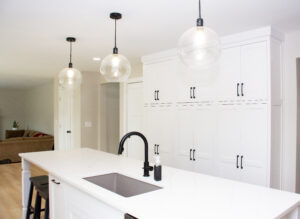 A Couple of Questions for Chelsea
We asked Chelsea to walk us through the process when she gets a new client. She was quick to point out that every job is different, and her services are tailored specifically to each individual client, as this process is client-driven, and client-focused. However, she did provide us with a general overview, and here is what she shared: 
In our initial meeting, I will talk with the client and find out what their goals are and what they are trying to accomplish with their new space. We will discuss aesthetics, color, materials, function, etc. I really dive in and try to understand how they use their space now and how they want to use it. Once I understand their goals, we discuss their budget and options that will reflect their taste and style. I will then check out the existing space, take measurements, document all the detail, and take photographs.  
The next step in the process is for me to create initial drawings and complete all the background work of finding products and getting quotes and estimates—keeping in line with the aesthetic, materials, and style they want. The drawings and details are provided to the client, and we can tweak details and looks as needed until they are happy with the outcome. At this point, we start construction! Throughout the process, I will keep a close eye on the project and make sure that the client is happy and that all our goals are being met.  
What I love about being part of the Jax Construction team is that we offer a lot of flexibility. We have relationships with various suppliers and manufacturers but are also able to branch out to find exactly what the client wants and needs.  
What is a good piece of advice to offer someone going into a remodel along with designer services:
It's good to know your general goals for the renovation and maintain a realistic mindset. When searching for inspiration, I always tell our clients that it can be just as helpful to know what you don't like as it is to know what you do like! 
Current Design Trend you are loving?
I'm loving that the current design trends are going in a more natural and organic direction filled with lighter woods, layers of texture, warm neutrals, and earth tones—it's very warm and welcoming!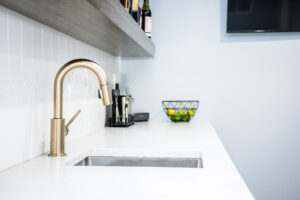 We are so excited that we can offer this additional service to our customers and that we have such a talented designer on our team. At Jax Construction Co, we want to make this process as easy as possible and take all the concerns and stress off of the homeowner's plate. If you are interested in a renovation or remodel OR you just require design services, contact us today to chat!