So much can happen in five years. Sports teams can go from underdog to champion, children go from infants to attending school every day, and businesses can go from start-ups to established companies. This year marks the 5th anniversary of Jax Construction and we're really proud of that. This endeavor has always been a long-term vision in our minds, and a massive undertaking that we have enjoyed, relished in and learned from.  
We live on a planet that enables people to act on their ideas and implement them faster than ever. However, this doesn't always equal success. It may take little time to start a business, but it takes more time to build connections, gain clients' trust, and cultivate a positive or excellent reputation within your field. Within the past five years, we have proven our dedication to our craft, exceeded clients' expectations, and created a presence in central Ohio as a trusted construction company. It's worth saying again, we're really proud of this.  
Where it all Began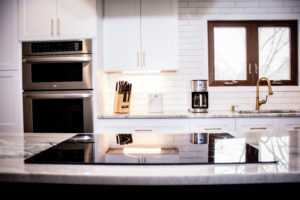 Jax Construction is based in the suburb of Worthington, Ohio which owner and founder, Ryan Salsberry, calls home. Ryan is a licensed general contractor who has always been passionate about his trade and creating beautiful homes and remodels using innovative ideas and sound practices. He knew that he wanted to start this company, but he wanted it to be different. He wanted the focus to not only be on the custom builds and amazing finished products, but he also wanted to cultivate a transparent and honest relationship with his clients, that unfortunately, isn't always seen in this industry. This is how Jax Construction is different. This is what makes Jax Construction stand out. This is how, after five years, Jax Construction is growing.  
Who Made it all Possible
We stand by our decisions and our methods, but the real reason we are here, celebrating five wonderful years, is our customers. The city of Worthington and Central Ohio's surrounding areas accepted us with open arms, took a chance on a new construction company, and then told their friends about their experience. The positive feedback and reviews helped us grow and flourish during some really difficult times. Starting this business and gaining traction, only to be hit with a global pandemic, was not something anyone could have predicted. However, through our loyal customers, talented carpenters, and amazing designer—we kept busy and kept building! Thank you to our team. Thank you to our followers. Thank you to our customers. We owe it all to you.  
What's next?
Now, as we embrace a post-pandemic world, we are really reflecting on how far we have come, how we made it here, and what is truly important. This has led us to host a quarterly giving back campaign to help those in need. We will be posting updates on our Facebook and Instagram pages about these campaigns so make sure to follow us there! We will be collecting items for families in need and attempting to give back to the communities that helped us so much over the last five years.  
Just for fun…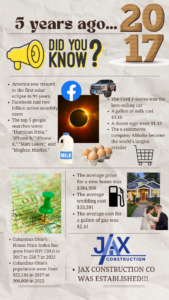 Thank you, from the bottom of our hearts, for the last five years. We are continuing to reimagine, remodel, and rebuild residential properties and would love to help you with your next project! Contact us today to start the conversation.