At Jax Construction, we love working with our clients to make the remodeling process as clear and seamless as possible, and as an extension of that, we have outlined what to expect when you hire us for your home remodel.  
Some clients can look at their space and know exactly how they want to update it to meet their needs. They create sketches, collect ideas on Pinterest, and research color schemes to lock down exactly what they want. 
Other clients have trouble visualizing the space but know how they want it to function. Many clients fall somewhere in between. Wherever you fall, we are here to help you finalize your ideas and reimagine your space. 
Step
1
: Connecting with Jax
Here is what to expect in your initial meeting with Jax  
Chat with a

Jax team member

to learn more about your project and how we can assist 

 

Share photos, inspiration images, or drawings you have to communicate your vision 

 

Work

ing

together to establish a preliminary budget range and timeline

 

The Jax team will pro

vide a general

estimate based on similar projects 

 

A retainer fee is collected to move forward in the design process 

 

Discuss next steps

 
Step 2: Initial Consultation
Meet at your home to assess the space

 

Take measurements and photos 

 

Troubleshoot any potential issues

 

The Jax team will provide a detailed itemized estimate o

f your proje

ct

 

Address any specific questions or concerns about the project or budget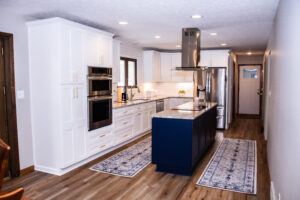 Step 3: Design + Planning 
Work together with our in-house interior design team to create design plans  

 

Jax

to work with architect and/or engineer for structural plans, if required

 

Complete permit process, if required 

 

Sign a contract and create a payment schedule 

 
Step 4: Project Development + Selections
Work closely with our

in-house interior design team

to make all material selections and finalize the details of your project 

 

Material orders placed 

 

Complete a pre-construction meeting to discuss logistics

and coordinate the construction schedule 

 
Step 5: Construction 
Beginning with demo, work will be completed per the approved drawings 

 

Ongoing communication with the J

ax

team regarding the work being done in your home and any hurdles or changes that may arise 

 

Ongoing support from our

in-house interior design team

to ensure all details are as expected and to help inform any design decisions during meetings with subcontractors 

 

Ongoing support from our Project Manager to ensure the project is staying on track and

to facilitate communication between the client and the Jax team

 

Support from the

Jax

team to answer any questions or concerns that arise

 

Daily clean up prior to leaving the property

 
Please understand that change is expected with remodeling projects. Refer to our State of the Industry Letter for more information on building materials and the impact that the current climate is having on home remodels.  
Step 6: Completion 
Fi

nal walkthrough to make sure all your expectations were met and

to

note any final construction details that need addressing

 

Discuss any warranty information

 
 With your permission, we may schedule a professional photographer to photograph your remodel for our website and social media accounts.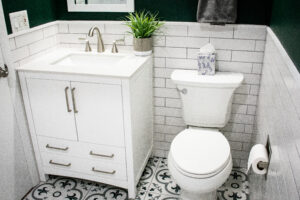 "Jax Construction completed the remodel of our hallway full bath. The process was well planned, well-executed, and well communicated. The team was kind, considerate, and we really enjoyed seeing them every day! We have worked with other construction companies in the past, and Jax Construction was by far the best experience we have had. We will continue to go to them for all our remodeling needs." 
-Kristen P. Worthington, OH
Living in a Remodel
 We pride ourselves on our process and our clients' happiness during their remodel. For those clients who plan to live in the home during this process, we want you to be aware of the impact it will have on your life. Please expect the following during your remodel: 
 

Moments of loud machinery 

 

Limited access to garage or driveway space at times

 

Presence of power tools and materials within the home

 

Turning off the water supply or electrical supply when required

 

Foot traffic of Jax team members and subcontractors wal

king in and out of the house

 

Access to the house if the homeowner is not home

 

Temporary denied access to spaces being remodeled

 

Unforeseen issues that may arise during the remodel and working together to solve problems!

 
 Together we will work with you to make living in a remodel as easy as possible while still being able to perform our daily tasks. We encourage all of our clients to communicate any questions or concerns to us that arise throughout the process.  
 If you are ready to begin your remodeling project, Jax Construction would love to help you make it happen. Visit our website or call us today at (614) 633-5418 to get the process started with our team!